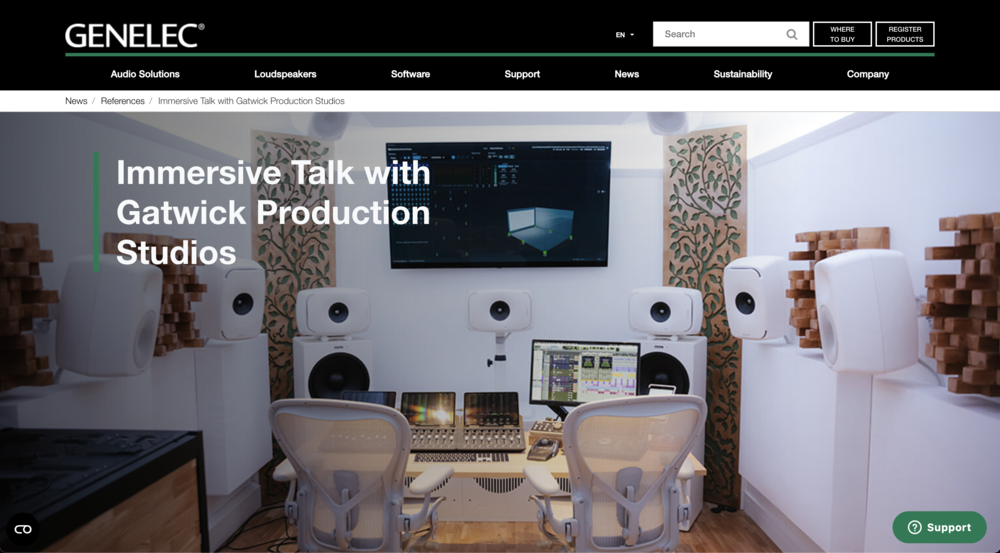 Genelec caught up with Gatwick Production Studio's Managing Director, Brandon Knights, and Technical Director, Simon Ryder, to find out more about their long and illustrious career as professional audio engineers and see how they're getting on with their new Genelec 9.1.4 Dolby Atmos system.
What's the story behind Gatwick Production Studios?
When Covid hit, we'd both had around 25 years of touring experience as live engineers. One of us (Brandon) specialises in front-of-house and studio engineering and the other (Simon) in systems and monitor engineering. After travelling all over the world mixing 'bands you've heard of' and working for several years together, the numerous gig cancellations caused by the pandemic made us look for a way to stay busy – our solution was building a recording studio near Gatwick Airport!
Crazily, the project just grew and grew. It now includes multiple recording spaces and rooms for mixing, mastering and our Dolby Atmos system. Additionally, we have a photography or videography studio with a greenscreen infinity cove, and we even created a rooftop tiki bar.
What kind of space do you have there in Gatwick?
We're based in an old R&D facility that was run by a major battery manufacturer. It's a roughly eight-minute drive if you're coming south out of Gatwick Airport. We're one of the most convenient professional studios to visit from anywhere in the world, with excellent air, road, and rail links.
The property was built in the 1950s, and we decided it'd be nice to restore several original features, such as the building's solid mahogany parquet floors. So far, we've managed to construct multiple studio and live-room spaces, and there's more to follow over the next couple of years, including a room big enough to record symphony orchestras.
Importantly, the first phase of our plan is complete, and we're open to bookings.
For the full interview click here